The author says:
This is a remake of the cover for this book, which hopefully is better than the first. Book info remains the same: A middle-grade satire about government and digital security in the U.S. involving an evil Santa Claus. It's mainly humor/satire with fantasy and some sci-fi elements, set in a future Canada where Santa is real and runs a global Christmas operation. It is NOT dystopian by any means. It's just normal Canada with some slight interference from Santa's surveillance department.

One line pitch: After a school trip to the North Pole goes awry, revealing some unpleasant truths, a twelve-year-old aspiring journalist and her friends must find a way to bring down Santa's global surveillance operation.

I know this doesn't look like traditional MG fantasy covers, with a painted scene from the story in a frame, but I thought that since the story is slightly different from traditional MG fantasy ones (because of the satirical elements), a more modern, simple, and graphic design (as opposed to artwork) focused cover would fit the theme. The left lens is supposed to look like the view from a futuristic camera with a laser targeting/tracking/whatever system (the kind in sci-fi and spy movies that involve lots of red lines on the display), and the right lens is more or less a scene from the book. I know they probably won't be visible in a thumbnail, but I'm hoping the general shape of the beard, hat, and slightly ominous looking glasses might entice readers to take a closer look, where they can see all of the little details. Hopefully this cover is better than the last one, and thanks for the help!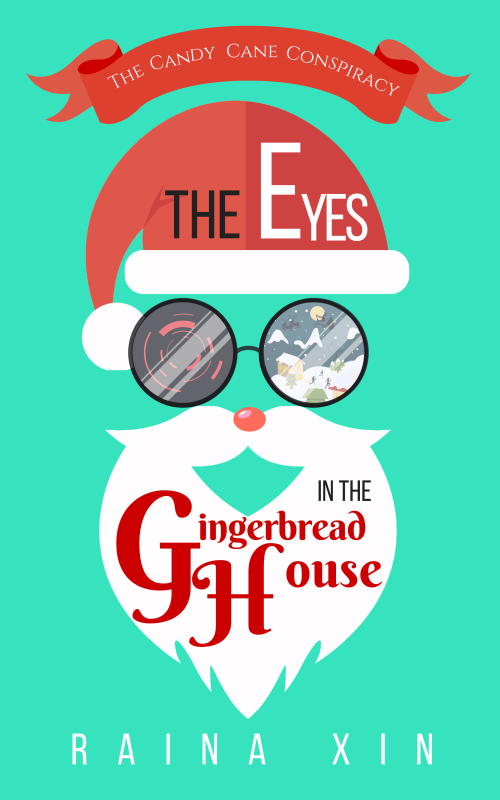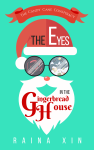 [
original submission and comments here
]
Nathan says:
Much, much better. I can see the Christmas vibe from 20 feet away, and the artwork is both clean and focused.
I don't know how well confining the title to the hat/beard works.  For one thing, I'm always suspicious of divided titles — the eye has to jump and quest for where to continue with what should be a continuous thought — and for another, it crowds the artwork, while leaving the teal background (that's teal, right?) empty and expansive.  I would play with cropping the artwork so that it leaks off the edge of the image, and seeing whether you can bring the title into one place.  (I also think the calligraphic font for "Gingerbread House" is unnecessary, and might be overkill.)
Re: the glasses: I like the concept of the surveillance camera-eye.  Remove the reflections, so that it's clearer.  You'd get more impact from that eye if you just left the other as an inert lens — "Christmas" is already well-established, so you don't need a Yuletide scene in there to reinforce it.
I think you're definitely on the right path here.  Any other comments?