The author says:
This is a draft of a new cover for my book, Phoenix Afterlife. I previously submitted my original cover (http://covercritics.com/?p=1349) and received a very useful critique. The new cover, produced by Rena Hoberman at CoverQuill (whom I found through your Designers for Hire links), takes into account all the feedback that I received on the original cover. Thanks for any further input you folks care to give.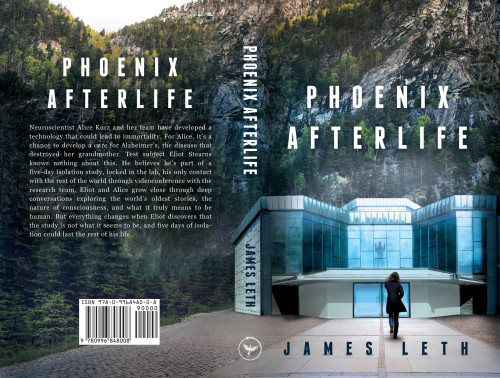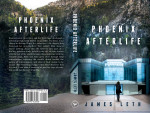 [original submission and comments here]
Nathan says:
Absolutely beautiful.  The steel-and-glass building, together with the square sans-serif font, gives the proper first impression of cutting-edge or near-future.  I love how the text on the spine just perfectly meshes into pre-existing elements of the image. And I didn't notice the guy in the window at thumbnail, so it was an added discovery when I looked at the full-sized version.
If I were to tweak one thing (and this isn't a make-or-break element), I would change the woman's posture, leaning her to one side as she's running, and maybe raise her hand so it looks like she's reaching for the silhouette on the second floor, not the front door.
Other than that, though, perfect. I'm glad you were able to find a designer who could give you a cover appropriate for your book.