The author says:
Contemporary fantasy with some horror elements.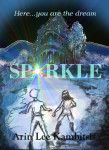 Nathan says:
Hmm.  Lotta problems here, and I don't know which to address first.
First, I suppose, is that the main image is composed of elements in disparate styles which don't blend well together.  You've got an over-processed (and poorly composited) photograph of a house in the middle of a digital sketch.  They look like they were thrown together not by design, but by desperation.
The digital sketch is a problem by itself, because it looks just like what it is: A hasty sketch. Lord knows I love sketch artwork, but this is too scribbly to be much more than a guide for a later, more controlled rendition.  And the scribbled details to either side look almost like digital graffiti — they distract without adding anything.
I could go into font choices and such, but I think you've gotta correct the main image before any other repairs make sense.
Am I wrong? Other opinions?