The author says:
Arenia is a shy, young woman troubled with fears and insecurities living an ordinary life in a big city. All that is about to change when she falls into an illusive world, where reality is dreamlike and surreal. As she searches for a way back home, she embarks on a journey encountering bizarre and deadly creatures at every turn. Arenia must distinguish between what is real and what is illusion if she is to survive. She must learn to make choices between fear and courage, between risk and comfort . . . or someone else will make them for her.

Blending myths & legends, dream and reality into an inspiring tale of self-discovery and transformation, ARENIA & The Golden Key is for readers, both men and women, across all generations. Whose author's readers would it appeal to? Paulo Coelho, "The Alchemist". For readers that enjoy fiction (Metaphysical & Visionary) with inspirational life lessons.

Thank you very much for your help! Much appreciated.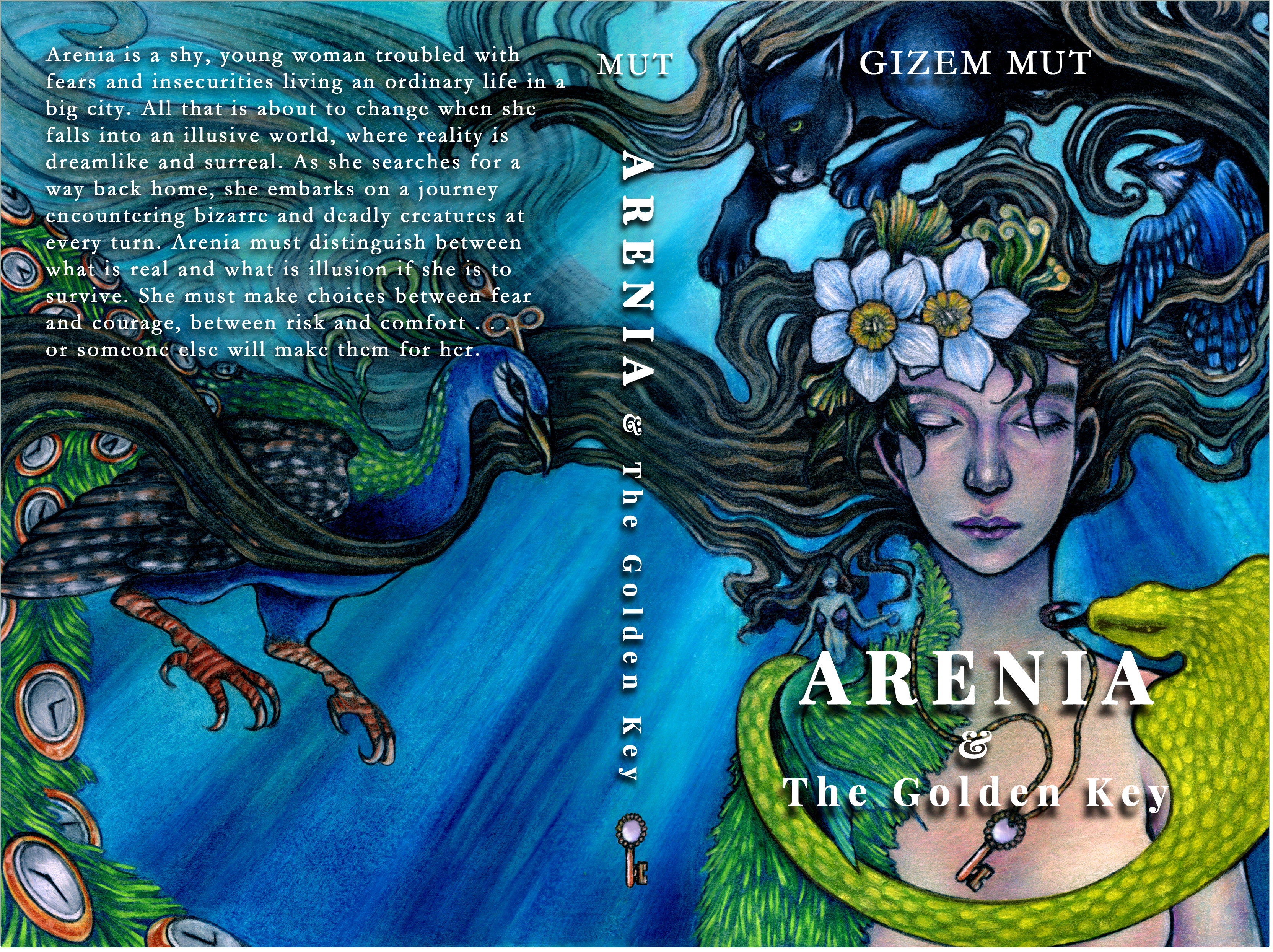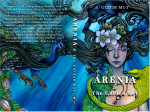 Nathan says:
I have no complaints about the artwork.  (Well, the cobra isn't obviously a cobra at first glance, but aside from that…)  So let's work on bringing the type up to the level of the illustration.
I think the biggest problem is that you have the byline where the title should be and vice versa.  The top of the illustration is render in more consistently dark tones, which means that the title will stand out better.  And even if you end up obscuring the cat and bluejay, it's still a better choice than trying to squeeze the text across her collarbone.
I also think you need to reconsider the font and type treatment.  Spaced type can sometimes work well, but usually when, again, it's in front of a background with which it contrasts strongly.  Where you've got it, you realized that you needed an extra element to help the type distinguish itself from the background so you added the drop shadow, but the end result of spacing and drop shadow is that the letters look too disassociated from each other.  (A slightly — slightly — more ornate typeface on the title wouldn't hurt either.)
I would also suggest that, as your name is very unlike most names in the English-speaking world, it's not immediately recognizable as a byline.  Adding "A Fantasy Novel by" just over it will eliminate that confusion.
Since you've given us the back cover too, I'll say that the same drop shadow problem exists here.  My solution would be to put a solid or mostly solid square behind the type, which would allow you to get rid of the drop shadow and tighten up the line spacing, so that your solid square doesn't overlap onto the peacock.  (There's a sentence I couldn't ever predict I would type.)  And of course, put something in that big blank spot at the bottom of the back cover.
I feel like I'm missing something, but that's what I can depend on the other commenters for.  Ideas?