The author says:
Dr. Elijah Snow wanted to record history, not become a part of it. But after stealing the T714 time-displacement craft from his US Air Force benefactors, he quickly found out that witnessing an event without participating in it was easier than it sounded. Accompanied by his quirky A.I 'Fuzzy', Dr. Snow sets out to document many of the major historical occurrences which had always intrigued him. From the Mongol Invasion to the crowning of the Danish king Harald Bluetooth, Elijah does his best to record without getting involved. But invariably he ends up embroiled, time and time again, in these events, never failing to leave his footprint on the pages of history.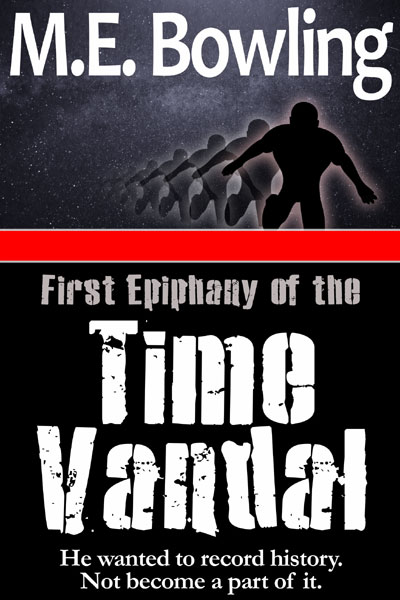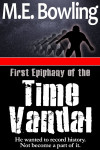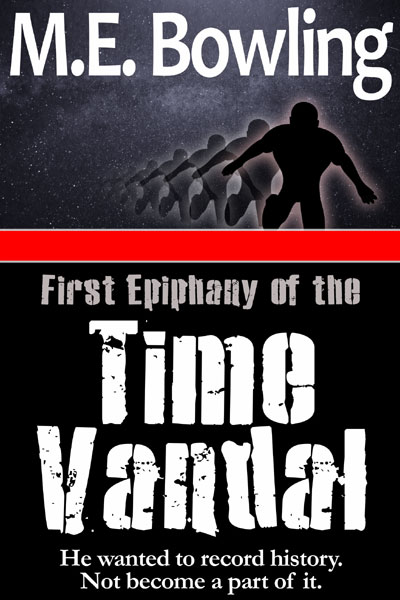 [original submission and comments here]
Nathan says:
A much stronger design concept this time out. Now we can get down to fine-tuning.
First: I like the idea of the echoing silhouette, but not THIS silhouette. His foreshortened limbs look odd, and he's in an unnatural stance.  I also suggest rotating the successive silhouettes, which will give a more "out of control" impression.
Second, you have too many fonts.  Unless there's a compelling reason, I always advise to use at most two fonts on the cover. What I would suggest is using two-and-a-half fonts, as it were; I know a lot of stencil fonts come in more and less distressed varieties; if this is one of those, use the less distressed version for "First Epiphany of the" and save the more distressed version for the big words.  Then use the tagline font for both the tagline and the byline.
A final word; from the original description (and somewhat from this description, though less so), I have the impression that this is at least partly a humorous story.  If so, then you need to find some way to indicate that on the cover, which is pretty humorless.
Other comments?