The author says:
This is a picture book intended for adults to read to young kids, or for older kids to read to themselves. The aim is to present the science behind how an Aurora occurs but without losing the sense of wonder and awe that science can sometimes kill off. This is done by simplifying the scientific explanations, adding some drama, and the use of rhyming language. This book is the first in a series titled 'Tales of Science and Magic'.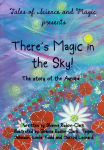 Nathan says:
A commendable project, and I have no complaints about the art (which is good, since that is the one thing that can't be changed here). So let's look at the type.
I was going to point out the mismatch between the whimsical flavor of the supertitle and the simplicity of the rest of the type, but I think we actually need to go back further.  The cover art is obviously hand-done, and while the type tries to match that, it's just as obviously a computer imitation of hand-drawn lettering.  I think you would end up with a far superior project if you asked one of your contributing artists to hand-letter the cover!
There's a particular problem with your credits block.  I would (a) separate the "Written by" info a little from the multi-line "Illustrated by" part. I would also make sure that none of your illustrators' names are split by a line break.
Other comments?