The author says:
Let me first start of by thanking all of you for this site. Wish I'd stumbled on it earlier! I'm in the process of updating a cover to a book that is already out and would welcome any feedback.

"The Thirteenth Hour" is a fairy tale about a young man who, through no fault of his own, ends up involved in a quest around the known world to find the secret of eternal life for a narcissistic ruler. Thought it's not something he's thrilled about, he continues on the quest alone and without provisions after his team perishes and their ship sinks early in the mission. Along the way, he comes to better understand something about adventure, but more about becoming an adult and his own person.

Creating a suitable cover has been challenging since it's been a difficult book for me to classify. It has fantasy and sci-fi elements, but hardcore fans of those genres would probably find it lighter. It's not really young adult (in the publishing sense), since the characters are a little older (late teens-early twenties), but the "new adult" genre seems mostly dominated by romance novels at the moment. So, I have described it as a fairy tale for adults. I was aiming in this cover to have warm colors and a sense of dynamic motion to fit the central image of the main character speeding over the cloudscape while doing a backflip on his hoverboard. But, I let you be the judge of whether that was successful or not.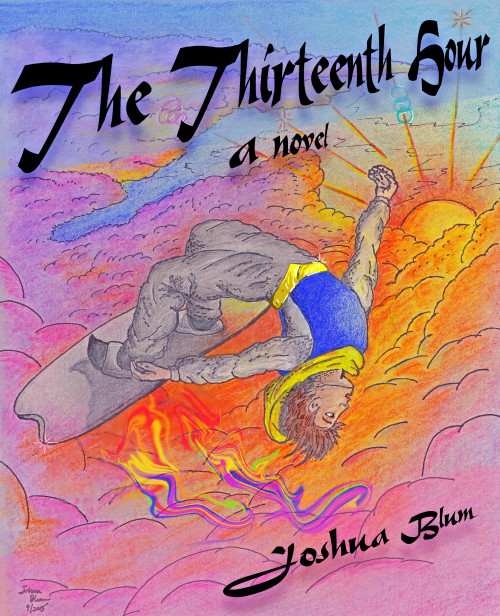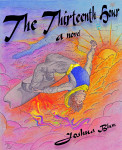 Nathan says:
Thanks for the kind words — and now you're probably going to hate me because I'm about to crap all over your cover.
Because it's just not professional quality. It's not.  Yes, you have artistic talent, but your work doesn't show the results of years of learning professional technique.  It looks like the kind of thing that could be pinned up inside a locker, but not something that could compete against other books on Amazon.  The line quality is primitive; the anatomy and perspective is off; the colored pencil work is colorful, yes, but it lacks a dynamic light/dark contrast — if seen in grayscale, it would all be a midrange murk.
On top of that, the choices you made for type are plain wrong.  The typeface is borderline unreadable, and while I understand that you bent the text to run parallel to the hoverboard, but the unfortunate effect is that "The" becomes the most emphasized word in the title.
Name five book titles that you would expect to have a common readership with yours.  Now go to Amazon and look at their covers. That is how your readership expects books to be presented to them — that's how they expect their books to look.
I really don't see a way to salvage this.  At best, you could take your version of the cover to a freelance illustrator and say, "Here's what I was thinking," and see how that freelancer could adapt your ideas to a professional design.
Other comments? Am I wrong?