The author says:
Crystal Spires by J. Wagner (YA) The story follows the adventures of a young police officer named Frizz(-ina), mysterious power sources, crystal mansions, and villains with covetous agendas in a massive, underground city. Sci-Fi Fantasy. (Hello Cover Critics. As you can see, I am trying to work out a composition for this book cover. It was very crowded in the first version and I had to cut a lot of things out. I have yet to add color but I would like to get the composition shredded before I commit to any painting. How can I make this a compelling cover you would want to pick up and read? Thank you for your time!)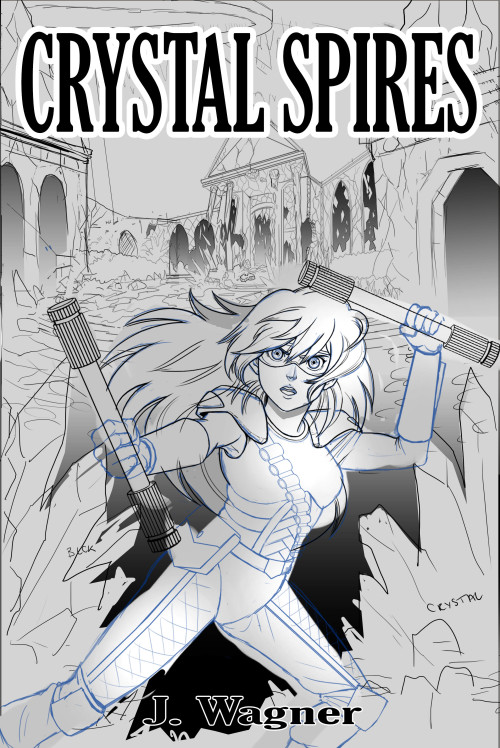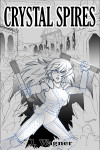 Nathan says:
You got a lot of artistic skill.  I have complete confidence that you'll be able to do this cover justice.
First: I would say, NEVER leave color to the end.  Unless the prospective reader is colorblind,the first thing they'll notice — before line quality or title — is the color (and even if they're colorblind, they'll see the dynamics of light and dark first). How is the central figure going to "pop?" Murky colors for the ruins behind her, dusty pastels for the crystals, primary colors for the figure?  Whatever it is, you should go into the line drawing knowing what the end color layout is going to be; otherwise you'll be there at the end, pulling your hair out over how to make the crystals distinct from the ruins without taking away from the figure.
Second: Is this a graphic novel?  Your description implies that it's not, and if so, you might want to make the figure's face less manga-ish to avoid a false impression.  Otherwise, you might get the perfect reader for the book ignoring it because they don't want to read a manga right now, and manga readers who flip through it feeling gypped.
Third: I think you can let the type take up more space.  If the title were on two lines — say, with "Crystal" flush left and "Spires" flush right — it wouldn't feel like it's been pushed out of the way to make room for the artwork.  (That's another thing that makes it feel like a comic book, because in a comic book the masthead is designed to be relatively out of the way to that it doesn't intrude on future, as yet undesigned covers.)  Similarly, let the byline take up more space.
Other thoughts?