The author says:
This is a concept/composition cover for a title I probably will self-publish. You know, after the publishing houses reject it. Title: Jackman Genre: Space opera, science fiction and fantasy mash-up Target Audience: SFF readers Short synopsis: As Arekan traveled the stars as a crewman aboard merchant vessels, he used many names. It was safer that way. The young man had his own secrets to keep. But Sinlon Mor'a'stan, a member of the outlawed family that once ruled the Kyn Empire, did not know these secrets. When he taps Arekan as his son Santir's guide and protector, he unchains a force that would change not only Santir and Arekan's lives, but the Empire of Kyn forever. But before the two young men get to Santir's home world they face many dangers, including Santir's failed spacewalk, pirates, and their intense dislike of each other. Thanks for taking a look at this!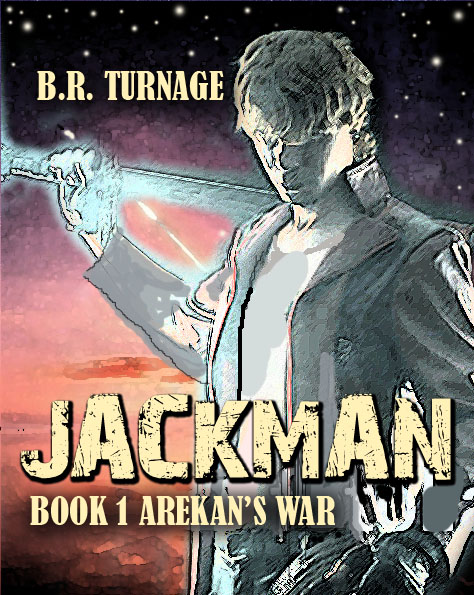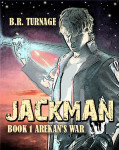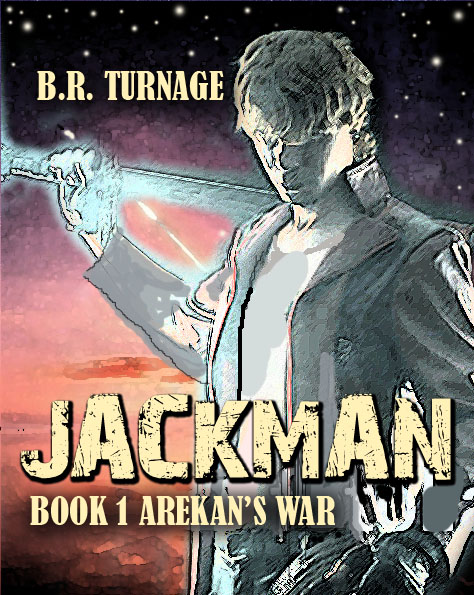 Nathan says:
I like the fact that the image you sent me is labeled "concept art."  This is a starting place, and a good one.
First, when I look at the thumbnail, it seems oddly bleached — and by "oddly" I mean that the lack of contrast doesn't seem to be for any reason in particular.  I can see that you were going for a glow/aura/nimbus look, but I still think you can work some contrasts into the figure.  Especially with a light title across the figure, it just looks washed out.
Also from the thumbnail, I can see that the proportion is a little wider than standard. Obviously with an ebook cover you can technically make it at any proportions you want, but there's still reader expectation to deal with.  Readers of genre fiction unconsciously expect their book covers to approximate the standard dimensions of a mass-market paperback — two-to-three, or 6″ x 9″ if you're printing at Createspace.  The good news is that I think that trimming the right side of the image would actually make for a better layout of the figure.  I mean, it's not like you need to see his left shoulder…
Moving from the thumbnail to the full image, here's my first impression:
BUSYBUSYBUSYBUSYBUSY
The combination of filters adding "fake detail" to the photo plus the textured font for the title adds up to "too dang much."  What's worse, it looks like you're trying to compensate for a blurry or too-small photograph by gussying it up.  There are ways to do that that work better than this.
And finally, your synopsis puts this book firmly in "space opera/science-fantasy" territory, but the cover doesn't hit that bull's eye nearly so well.  From the cover, I'd guess maybe SF, or maybe urban fantasy, or possibly a light-hearted post-apoc adventure…  What can you do to up the "sciffyness" of it?  More futuristic fonts?  The silhouette of a Kelly Freas-like spired city on the horizon?  A multi-colored planet peeking in from the upper left?  Whatever you choose, give more definite clues to your potential reader.
Other thoughts?