The author says:
Dr. Elijah Snow wanted to record history, not become a part of it. But after stealing the T714 time-displacement craft from his US Air Force benefactors, he quickly found out that witnessing an event without participating in it was easier than it sounded. Accompanied by his quirky A.I 'Fuzzy', Dr. Snow sets out to document many of the major historical occurrences which had always intrigued him. From the Mongol Invasion to the crowning of the Danish king Harald Bluetooth, Elijah does his best to record without getting involved. But invariably he ends up becoming embroiled, time and time again, in these events, never failing to leave his footprint on the pages of history.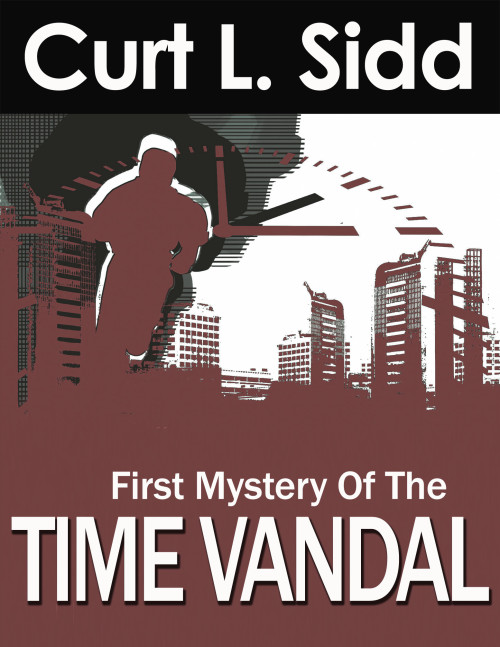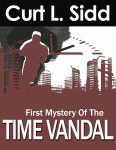 Nathan says:
I sometimes have "opposite" days where I think I have a good design concept, and yet everything I do to make it better instead makes it worse, until the only thing left for me to do is scrap it.  This cover reminds me of my output on those days: there may have been a good starting point ("good" meaning "something that caught your imagination"), but a succession of decisions that didn't seem bad at the time bury it.
From your description, I'm envisioning a novel of obviously wide scope, colorful adventure, and more than a little humor. Unfortunately, I don't get any of that from your cover.  The only indication of adventure or thrills is the silhouette of the running man, and he's not central enough to draw the eye, nor specific enough to convey anything.  After reading your description, I can recognize the clock face as meant to convey the time travel element, but clock faces are also used to convey "ticking clock" tension in contemporary thrillers.  The buildings, likewise, are modern, as is the stolid typeface; there's absolutely nothing here to clue the reader in on the genre, tone, or scope of the novel.
And the color scheme… waaay to murky to draw the eye.
This is a link to the current bestsellers in the Time Travel subgenre on Amazon. (You can refine the sub-subgenre further to Horror,  Humor,  Mystery,  Non-Romantic,  Romantic,  Thriller — and the fact that they have "Non-Romantic" as a specific sub-subgenre fills me with despair for my species.)  Ignore the covers from books by Stephen King and Douglas Adams, since the most important element of those covers is the author's name.  The rest? These are your comrades, and your competition.  This is how readers of time travel novels expect their novels to look; this is what they look for.  Could your cover attract the positive attention of someone who just read one of these books and wants more?
My advice, cruel as it may seem, is to scrap what you've got and start over.  Start with a color scheme, or maybe with a font — those are the things a reader will see first, and they have to be interesting enough that they'll take a second look.  Build from there.
If that's beyond your skill set, seeking help from a reasonably-priced professional is your best bet.
Anything feel differently?