The author says:
Synopsis- Harvey El Bradshaw insists that his life is fragmented, defined by eight places, eight different times, eight, eight, eight. He feels like he is always becoming a new person as he grows older, almost like a snake consistently shedding its skin. To contrast the divided way he sees things, Harvey meets a small Spanish girl again and again over the years (her appearance almost always being a constant). Her name is Lucia Pérez. This book captures the life of Harvey and is split into eight main parts. Play on numerology to almost parody how much humans look for patterns in life. I am not the author, but I did design the cover. The genre is something like a combination of phycological journey/satire. The target audience would likely be young-mid adults (think 20s and 30s.) I tried to capture both genres through the cover, as well as make the "eight" very prominent. I worked off the idea of Harvey feeling like he was constanty becoming a different person, hence the faceless suit to represent a unknown identity (if that makes any sense). Thank you for your time and critique, I really appreciate it!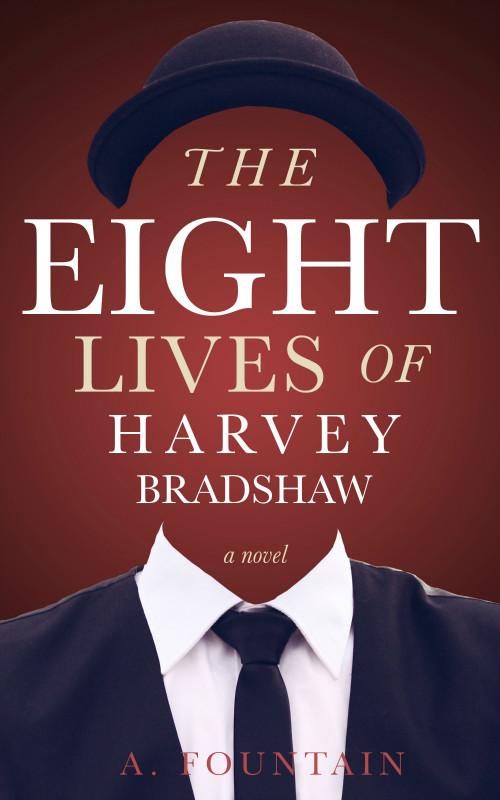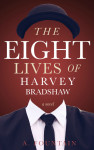 Nathan says:
I have absolutely no complaints about the general design. I think it's distinctive, simple, intriguing, and appealing to the "intelligent lit" crowd.
My only advice would be on execution. The edges of the hat and suit (especially the hat) are hard enough that I can see exactly how and where you used the lasso tool.  That's easily solved with a bit of feathering.
Also, I'm not thrilled with how you treated the byline.  At thumbnail size, it's easy to be unaware of it completely; in full size, it still seems strangely shrunk and subdued.  I'd increase its size so that it stretches at least 80% of the width of the cover, and maybe add a blurred drop shadow to help it stand out more.  (I'm also not thrilled with "A. Fountain" as a byline either — it could easily be mistaken for a description of some sort. If this is your first novel and you don't already have a following under that byline, I'd strongly suggest using a full name instead of a single initial so that your name looks more like a name.)
Other comments?