The author says:
In an ancient medieval fantasy-esque world, Ahliss, a would-be hero travels in search for fame and fortune with a great sword of intimidating proportions at her side. The sword has a tendency of remaining bandaged up due to the smallest cut being an exercise in murder. It's an epic fantasy serial covering the travels of a quasi-mythological hero, inspired a great deal by the shounen-genre in the way its lore is built. It would likely appeal to males 13+, but featuring a strong female protagonist as its principal character, I'd like to think female fans of epic fantasy 13+ will enjoy it as well.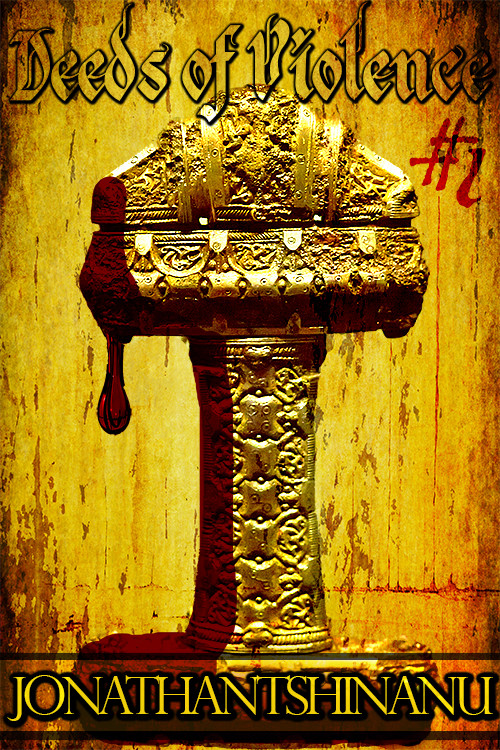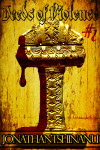 Nathan says:
I think the first problem here (which is actually two separate problems) is the sword.
Problem #1a: I can figure out that we're looking at a sword hilt, but my first impression is that it's a… hammer? Casket on a pedestal?  You can see how it's hard to make out.
Problem #1b:  There are a lot of fantasy books, mostly indie-published, that feature swords on their covers.  It's much less impressive than most of them think. According to your description, the sword in this book is visually distinctive because it's usually wrapped up; think of how much more compelling the cover would be with a sword (not just the hilt, but most of the sword) partially bandaged, with a gleaming edge showing through where it's unraveling!  I doubt you could find a pre-existing stock image like that, true; but if, say, you contact someone who has posted stock photographs of swords on DeviantArt and asked how much to get a custom shot of a wrapped-up sword, I bet you'd be pleasantly surprised at the price.  (I'm not saying the wrapped-up sword is the only way to go; I'm just trying to work with the cover ideas you've already decided on.)
The second problem (or third, depending on how you're counting) is itself a multi-part issue: The type.
Problem #2a: I think the outlined title is a bad decision.  Calligraphy already can present a hurdle to easy readability; the hollow outline only  makes it worse.
Problem #2b: The "#1" seems more appropriate for a comic book or K-Mart flyer.  Fully spelling out "Book One" or "Episode One" or whatever seems more in keeping with the epic character.
Problem #2c: The spaceless all-caps byline.  As I've said before, the more unusual a name is, the more clearly readable it needs to be.  If your name were Bob Smith, you might get with "BOBSMITH" for the byline.  But with a name as long an uncommon as yours is, the byline is just a hopeless jumble.
Problem #2d: The layout of type around the central image.  If your cover art were custom-made and fascinating right down to the details, you might — might — be justified in squeezing the words out of the way so that art wouldn't be obscured.  There's no such justification here.  I'd say that your title here should be broken onto two lines, and all of it (including any "Book One" subtitle) could take up a full third of the cover at the top, and your byline — again, broken into two lines — should take up a quarter at the bottom.  You'd still have plenty of room for a simple but arresting central image (such as a bandaged sword) in between.
So there you are. Two problems, or maybe six.  Math is hard.
Other thoughts?