The author says:
A time travel adventure novel about a top Temporal-agent (female) forced to drag a hapless man through time. Much danger ensues. Written by her boss, the head of the Temporal Agency, Blog Glatnek.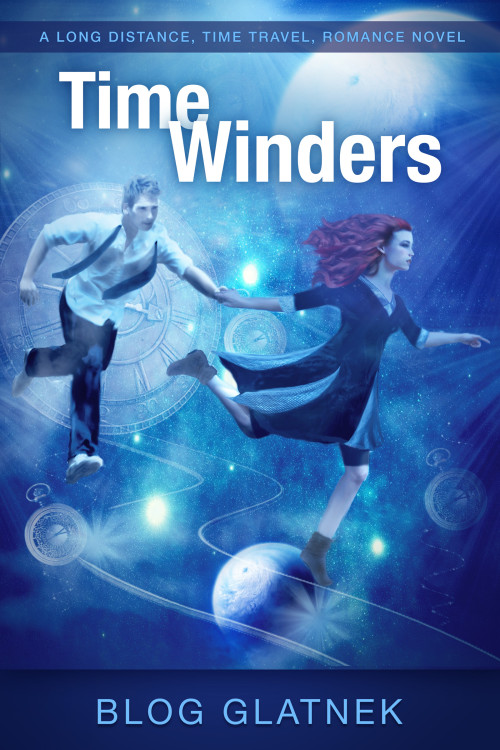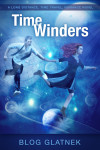 [original submission and comments here]
Nathan says:
Definite improvement!  You managed to be a lot more confident in your font use, while still maintaining the feel of the original (as opposed to my more "novelty"-style fonts in my mock-up). Here are a couple of things I would still look at:
1) I think there's still a lot of wasted space at the bottom — I mean, it's not like you need to make sure that the reader has an unobstructed view of her left sock, right?  I would tighten it up by cropping it a bit, making the top of that solid area behind the byline the bottom edge of the cover, and in compensation cropping a little from the left side.
2) While it's good artwork, it tends to blur into a blue murk in thumbnail, or when glanced at (and remember, every book cover is first glanced at — it's only after that first glance that a browser comes back for a second, longer look.) How can you make it "pop" more? I'd place with the contrast and/or the saturation — it doesn't need to be garish, but a more dynamic contrast of light/dark or blue/red would make it more arresting.  Remember, your book cover's first function is to work like a highway billboard, grabbing the attention of someone who could just as easily concentrate on something else. (Like the car in front of him.  Maybe you shouldn't follow this comparison too far.)
3) The byline.  As you said in comments to the original submission,
I (Tanya Park, female) am the author. Blog (male) is the futuristic narrator of the book.
So where's your name?  Because as it stands, there's no reason for anyone to think anything except that Blog Glatnek is the honest-to-Elvis author.  This book will get filed under "G."  If you're trying to establish a pen name, that's one thing; but if you're instead trying to establish the identity of the narrator on the cover, I'd suggest something like:
From the Official Reports of
BLOG GLATNEK
Director General of the Temporal Agency
as told to
TANYA PARK
4) Commas. I'd take as many as possible out of your tagline (i.e., all of them). "A Long-Distance Time Travel Romance Novel."  If you feel really naked without some more punctuation, you could hyphenate "time-travel."
Anybody else?