The author says:
Blackest of Lies is set in 1916. It aims to suggest an alternative view of Lord Kitchener's death at the hands of the German Navy in the cold waters off Orkney. There were many questions raised concerning the security of his journey which started immediately after the tragedy and have rummbled on until the present day. This book suggests that Kitchener was murdered in his house by the IRA and follows the efforst of the security services to keep the murder a secret by employing a military doctor as a resonable stand-in to fool the public at a distance. But, when he is sent to Russia via Scapa Flow, it is in the interests of friend and foe to ensure he does not return. It is left to Lt Hubert, the man who suggested him, and Anne Banfield of Special Branch to race after him to prevent his death in the coled waters of the Pentland Firth. Thsi book is aimed at those who are interested in espionage, the security branches and the Great War.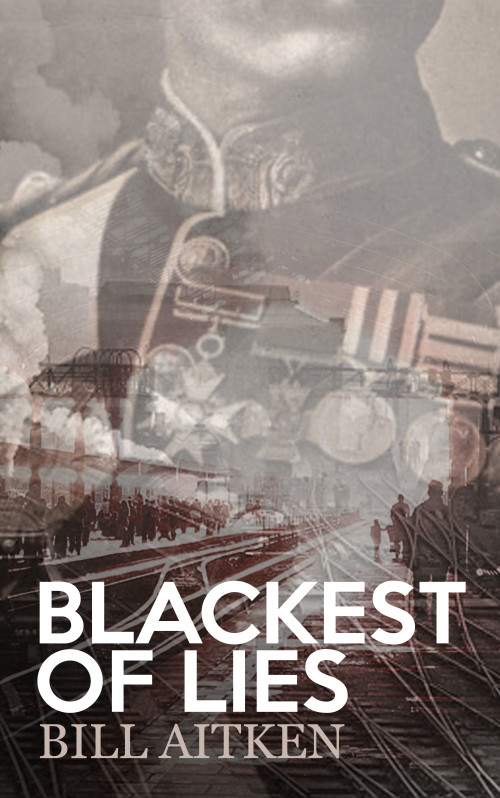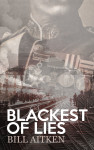 Nathan says:
Very confident in its use of images, a muted color palette, and type.  Here are tweaks I would recommend:
I don't know about most people, but I know I'm not history-savvy enough to instantly grasp the setting from the images shown.  Perhaps a subtitle/supertitle giving just a smidge more info — "A Conspiracy of the Great War" or somesuch — would be appropriate.
I can't tell what exactly I'm supposed to pick up from the upper image. If it's the military imagery, it might be worthwhile to move that photo up so that the medals are more clearly seen, and make it a bit less transparent. That would also help the train tracks be more easily recognized as well; readers would benefit from instantly understanding "military" and "railroad" than "what am I looking at?" in that first three-quarters of a second.
I'd probably also try a bit more space between the title and byline, but maybe that's just me.
Other thoughts?