The author says:
The title is a portmanteau of logo and cartoons. I wrote (and hired a cartoonist) 120 single panel gag cartoons. The cartoons are built around a word and its definition. Not multi-syllabic words no one cares for or could ever remember (except for a couple I couldn't pass up), nor highly technical jargon, but interesting words rarely used in the banter of daily conversation. Readers expand their word knowledge and get a good chuckle at the same time. The prospective cover, for instance, is of one of the cartoons (attached to this email). I'm attaching a couple more cartoons to give you a better feel of the book.

I would be very interested in hearing other voices ( bad choice of words there) in hearing other people's opinions of the book cover. I truly appreciate the help you and your group offer.

(I'm thinking of putting in a splash of color – perhaps yellow on the feet of the chicken patient and pale blue coverings on the chicken surgeons.)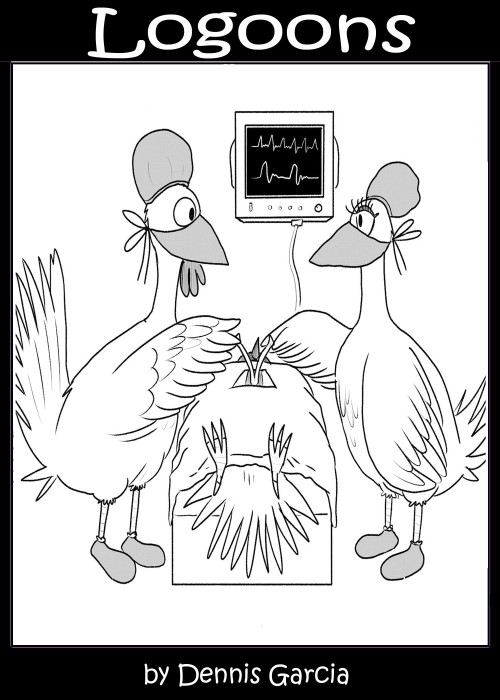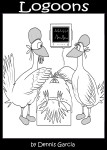 Nathan says:
Thanks, Dennis. I hope our comments are as helpful as you expect. (Bring your A game, folks!)
I definitely agree about the color. In fact, I'll go one further: I think you should fill that big white background space with color, maybe a light blue.  Even the covers of books of entirely black-and-white cartoons should be colorful. (Look at the covers of any of the Dilbert books.)  And the black border? Make it a color — either a darker version of the light blue, or maybe a burgundy.
While you're at it, you don't have to put the text entirely outside the borders of the cartoon; that's a lot of wasted space.  there's plenty of room beneath the end of the bed for the byline, and the title could even drop until it starts to overlap the medical monitor.
Anyone else have thoughts?