The author says:
Attached please find the cover of my YA thriller THE PARTY LINE, about a young American girl in midst of Iranian Revolution. I designed cover with a little help from a desk top artist at CreateSpace.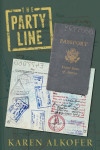 Nathan says:
I like it.
…
(What, you were expecting more than that? Fine.)
If I were looking to improve this cover, I would say that the contrast is a little dull.  If the thumbnail were displayed alongside several others (such as it is commonly on Amazon and other sites), I don't know if it would catch the eye long enough for the viewer even to notice the interesting elements. I'm not saying to make it stark and saturated, but a little more bright and dark couldn't hurt.
Other than that, I think it looks fine. Anyone disagree?