[
Edit:
The first cover I had here was sent to me in error; the better cover is below.  Comments are pretty much the same.]
The authors say:
A book for business owners or managers which presents an unusual approach to the dog-eat-dog mentality. One chapter is how to avoid creating zombie employees, another that the leadership structure shouldn't be top down but more like the flexibility of an amoeba. We hope the cover suggests a different and better approach to making a profit and developing people.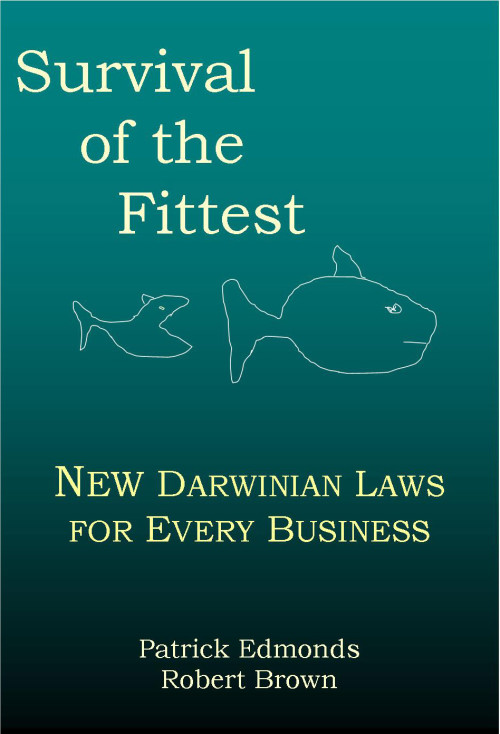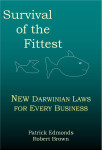 Nathan says:
I always like to start my critique by commenting on what's already there, but… there isn't much there.  This is the kind of cover you might use for a captive audience — a textbook, maybe, for a class taught by the authors — but it's definitely not a marketing instrument, which is what a commercial cover should be.
You use plenty of interesting metaphors and references in your title, subtitle and description: "survival of the fittest," "Darwinian," "dog-eat-dog," "zombie," "amoeba."  I don't know how light or colloquial the actual text is, but if it matches the images those words put into my head, then you could definitely have fun with this. Have a T-Rex wearing a conservative tie and holding an iPad! Zombies around the water cooler! An amoeba with black-rimmed glasses and a pocket protector!  Yes, this is custom art we're talking about, but given that it lends itself well to cartoonish line drawings, I think you could wave a couple hundred dollars in front of a webcartoonist like Carter Reid or David Malki and get something that just oozes with awesome.
If, on the other hand, you've got a more serious book behind this cover — punctuated by some interesting metaphors, but not as lighthearted as I assumed above — then you could still bring those metaphors to the cover.  A solid, dependable font like Trajan, surrounding a posterized silhouette of a T-Rex, would still give enough of an eye-catching appeal while not misleading readers on the tone of the book inside.
(Why a T-Rex, and not just better versions of the fish you have? Well, which do you think is more attention-grabbing? I thought so.)
What do other people think?