The author says:
Hello everyone! I made some changes to my cover in an attempt to kick it up a few notches. The idea of using a more obvious monster, and more obvious… implements helped and I like it more now! There are a few specific notes from the last version that I am addressing up here. 1) I tried the different colour backgrounds, and while they did work and look nice, the main character's accent colour is green, so it didn't feel right to have it someone else's colour! (I did gay it up with a rainbow though.) 2) I am not sure if I am sold on the phallic arrow as opposed to the bum arrow. Everything I tried looked a bit too… spot on. I have included it on this version to see what others think. Otherwise thank you everyone for the comments! – ♥ CB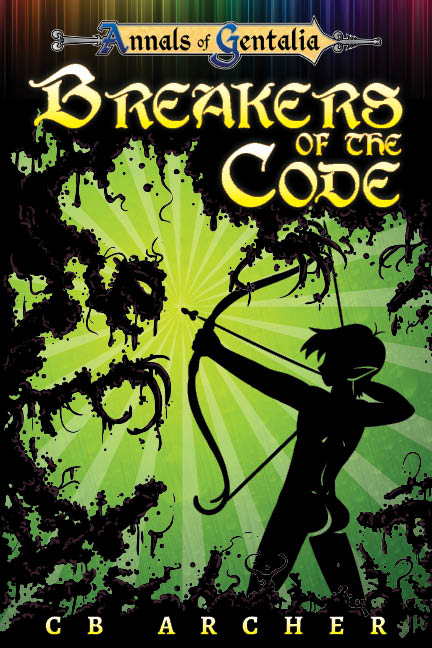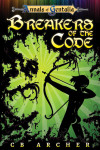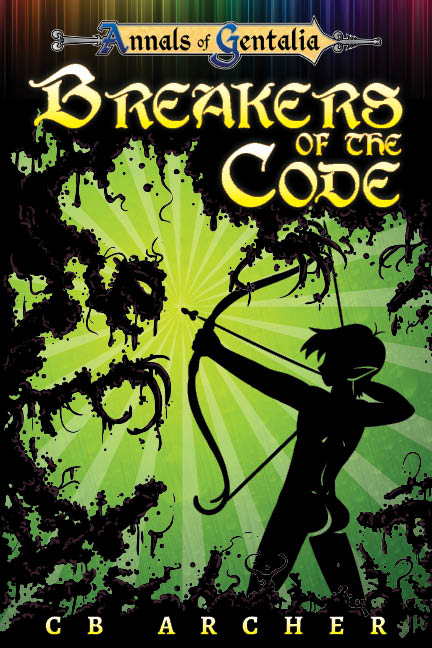 [original submission and comments here]
Nathan says:
Boy, that butt just pops now, doesn't it?
I honestly wouldn't notice the phallicness (phallicity? phallusy? whatever) of the arrowhead, but the lower viney protuberance jumped out at me… so much so that I'm wondering if Amazon is gonna let it by.
I don't know. I think that I'm not the best commenter on this one, as I'm really not the target buying audience.  I'll just say this: My favorite humorous-erotic cover (and it's even fantasy!) is one that I saw on Joe Konrath's blog a couple of years ago. Here it is. (What, you think I'm gonna display it here?)
Otherwise, I'll let everyone else weigh in on this one.