The author says:
Paranormal mystery. Geared towards readers of Kim Harrison. It's set in modern day Sacramento, CA. Naomi's living a normal life and trying to keep being a werewolf secret, when her brother's kidnapped. His kidnappers threaten to kill him and reveal he's a werewolf to the world.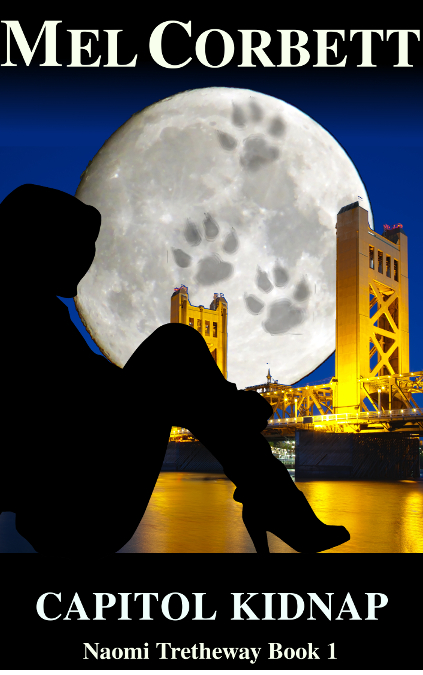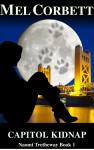 Nathan says:
I'm going to assume this is the "sketch" version and not hammer you on mechanics like the bad "magic wand" cut-and-paste edges around each of the elements. Let's look at the big picture.
First: The font has to go.  There's nothing evocative about it.  I would recommend you use a maximum of two fonts — one for the title and byline, the other for the series title.
Second:  Give that your name is not a household name, I think you should reserve the place of prominence for the title and put the byline at the bottom.  Or maybe put all three at the top, and shift all of the images down, getting rid of that black block at the bottom that screams "I couldn't think of how to fill this space!"
On to the images themselves:
I understand what you're trying to do, but it seems like the image elements are working against each other instead of with each other  — the silhouette vs. the bridge vs. the moon vs. the pawprints. Silhouettes, in particular, work a lot less frequently than they're used.  I think you need to decide: Which will be the focal element of the cover?  (It doesn't necessarily have to be dead center, as long as it's very clearly the main point of the cover.) Then work with the other elements to have them help and add to that main element — and feel free to toss the elements (whether you replace them or not) that don't play well with others.
More suggestions?