The author says:
The Hunt is the second book in a fantasy series. This one is based on the varied legends of the Wild Hunt. The main character, after suffering a betrayal by her fiancé, is found and enslaved by the Hunt and forced to labor while trying to stay alive. She eventually forges a life with them, thanks to an elderly pair of slaves and one particular hunter, Zephyr, who at first seems annoying and later, more than appealing. Set in modern times, it is part of a five book series dealing with different myths that tie together in the last book with a fight to keep magic itself alive.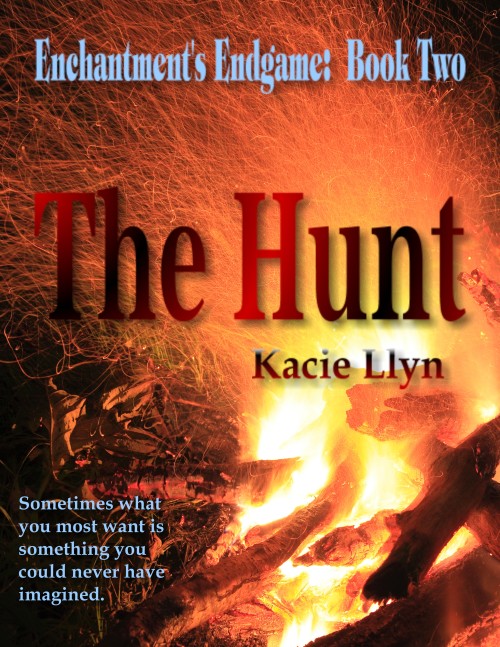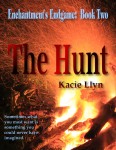 Nathan says:
It's certainly a dynamic image. I'm at a little bit of a disadvantage here, in that it's the second volume of a series and I don't know what design elements are common to both covers.
[searches Amazon]
Oh. Eep. I'd say forget the cover to Book One, finish the cover to Book Two, and go back and redesign Book One to match it.  Because ew.
So anyway, blank-slating for Book Two:
The biggest problem I see is that, while the image is eye-catching and energetic (by definition), it doesn't tell us anything about the book: genre, setting, etc. I'm assuming that if the books revolve around the Wild Hunt, there's at least a bit of celtic folklore to the books, right? Why don't we see that?  Even just a knotwork border (or even a semi-transparent border that disappears as it gets behind the firewood) would help.  Same with the text; maybe you want to leave the title as is because it's easily readable, but how about something uncial-flavored (while still easily readable) for the byline and/or series title?
The placement of the tagline bothers me — it seems to be moved over so as not to obscure something noteworthy in the cover image, but what's beside it isn't really that noteworthy; why not have it run the width of the cover?
Other comments?