The author says:
Guns, Religion & Robots is a horror & sci-fi anthology. The stories vary from tales of death and recovery to making living agreements with artificial intelligence.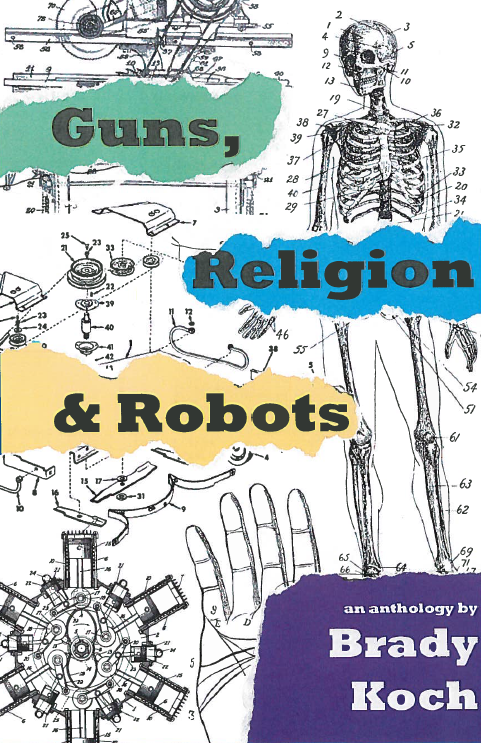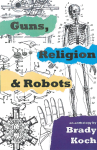 Nathan says:
You mean a collection, don't you? An anthology is normally stories by different authors. (Yeah, I'm kind of a bear about that.)
The great thing about anthologies/collections/compilations/whatever is that you can use ANYTHING on the cover, as long as it fits the mood.  And you've certainly got anything!  Here's what I would tweak to make it better:
1) Even though there's a lot of detail everywhere, there's still a sense of "white space" — an impression of blankness — probably stemming from that upper right corner. You could plug in just the edge of some other diagram there. I also wonder if a slightly off-white or creamy paper background to all of the white space wouldn't tie it together better.
2) Is there a reason that "An anthology [grrr] by Brady Koch" doesn't fill that purple space better?  Similarly, with how far in from the margin "Guns" and "& Robots" start.  I think you should expand your byline text to fill that purple, and move "Guns" and "& Robots" further to the left — especially "Guns."
Other ideas?