The author says:
A science fantasy series for children, The Plumseed Chronicles: Eternity's Island takes place in a world of machines. Eternity's Island focuses on a nameless girl who arrives on a drifting island with no memory of who she is. As she explores the island that is her home alongside her newly-adopted family and the sleepy village they live in, the girl soon discovers that something else far more dangerous and sinister followed her to this little island. Inspired by A Wrinkle in Time, Doctor Who, and The Golden Compass, The Plumseed Chronicles as a whole is intended for those who love stories that deal with scientific concepts played around with magic.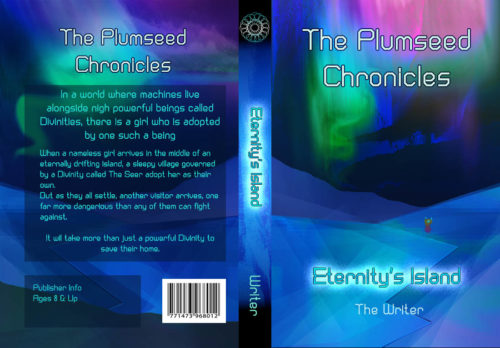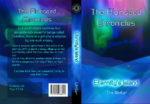 Nathan says:
This is a competent (though not terribly exciting) cover markup, but it completely misses your target audience.
Let's do some market research. I pulled up Amazon's page for science fiction and fantasy, ages 9 – 12.  These are the bestsellers:

Now, I'll grant you that it's very skewed toward name recognition; the only book on here that isn't related to Harry Potter or Percy Jackson is Lois Lowry's The Giver.  But still, these are the books that your target audience already knows that they like.  And how does that target audience expect books aimed at them to look?
Big words, slightly ornate but still very readable
Clear imagery, showing characters in adventurous situations (there are a couple that rely only on an iconic image, but they can do that because they're Harry Potter books, and readers already recognize the owl or round-glasses-and-scar imagery; you don't have that recognition)
Compare that to your cover: An unusual but sedate typeface (which is, by the way, completely wrong for your back-cover copy — that needs to be readable, readable, and readable), an abstracted pseudo-landscape in tones of blue, and — if you look really close — something that might be the main character:

This is not how the target audience for your book is accustomed to being marketed to.  It will not snare the attention of the people whose attention you want to snare.
My advice, simply, is to start over.
(And semi-related: You want to give that back-cover copy another scrub. It's ungainly, and some of the grammar is questionable at best.)
Other opinions?