The author says:
A middle-grade to YA satire about government and digital security in the U.S. involving an evil Santa Claus. It's mainly fantasy with a bit of sci-fi, set in a future Canada where Santa is real and runs a global Christmas operation. It is NOT dystopian by any means. It's just normal Canada with some slight interference from Santa's surveillance department. One line pitch: After a school trip to the North Pole goes awry, revealing some unpleasant truths, a twelve-year-old aspiring journalist and her friends must find a way to bring down Santa's global surveillance operation. Just FYI, because I have a feeling somebody is going to jump to this conclusion: The red background is purely for aesthetics, as well as to invoke the imagery of candy canes (a fairly important part of the plot). It is in no way related to Russia, Communism, or any other western ideas of totalitarianism. The book is criticizing the U.S. Thanks!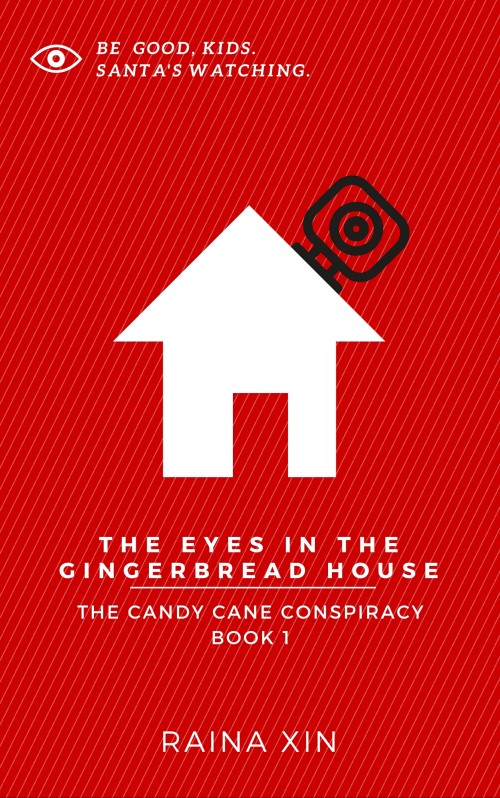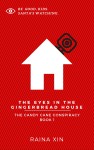 Nathan says:
You lost me at "middle-grade."
Seriously, there's nothing here that indicates that the book is meant for a middle-grade-to-YA audience.  Even more than us adults (and that's saying something), young readers pick up on the visual cues of covers to immediately understand that, of the books on display (either in a real bookstore or on an Amazon page), this one is aimed at them.  And what clues them in?:
A colorful, "fun" illustration of an interesting scene that portrays human figures, including the protagonists (so that the readers can identify the protagonists as someone in an age group they identify with)
Easily read type
By contrast, your cover includes type which cannot be read at anything less than full size, simplified icons instead of an illustration, a limited color scheme, and no human figures.  The red which you meant to evoke candy canes doesn't, because (a) candy canes aren't striped like that, and (b) at smaller sizes, it just becomes a solid red background.
If I saw your cover in thumbnail on an Amazon page — which is where most readers will first encounter your book — I would probably assume that it's a nonfiction book with something to do with home surveillance systems.
As I've recommended before for books aimed at young readers, I say: Pony up for custom artwork, from someone who's got experience in book covers for that audience.  Otherwise, your target audience will never know it exists.
Other thoughts?