The author says:
Charlie Kadabra feels like the biggest loser ever born. A foster kid, abandoned as a baby, picked on by the bullies at school, he thinks his life stinks, until he tries to save the little rabbit and accidentally blows up his science teacher, who's a robot! Running for his life, he follows the new girl, Emily, through a shiny curtain in the woods, and lands in the magical world of Mim. Charlie discovers he is the last of the Magicians, who are guardians of the land of Mim. Can Charlie find all the jewels of power for the Magician's staff his father left him in time to save all his new friends from Dr. Pi's destruction? This humorous fantasy tale will delight readers of all ages as they find out, there is a little Charlie in all of us.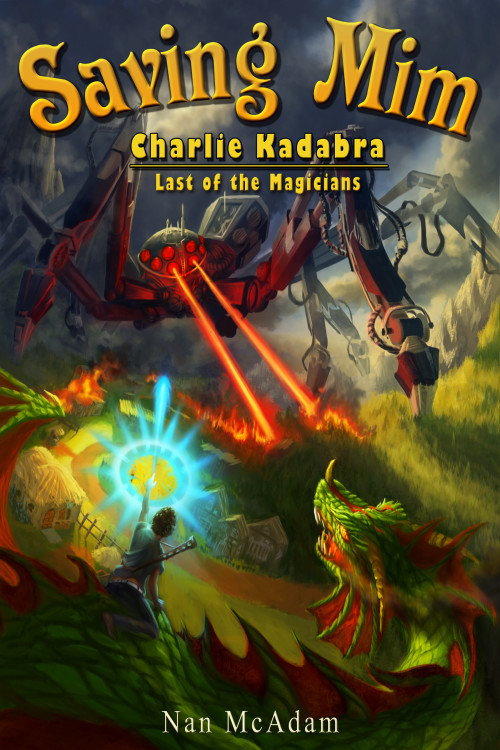 Nathan says:
The artwork is terrific. No complaints there.
The type isn't quite the equal to the artwork.  I don't think the characters in "Saving Mim" lend themselves well to that arc (the space between the words and the capital "M" give an off-balance feel to what was meant to be symmetrical), the font for the series title is underwhelming, and the byline… too small, too boring.
Everyone remembers the custom font for the original Harry Potter releases as "cutesy" — and it was — but it was also active. That's what you should be looking for to replace the title font: something dynamic enough that it doesn't need the arc to pep it up.  I always recommend a max of two fonts on the cover (with the possible exception of a pullquote, which needs to be readable above all else), so I'd recommend one font for the title and a second for the series title and byline.  remember that everything needs to be readable, and smaller type is harder to read anyway, so whatever font you pick for the subtitle needs to be easily read at those sizes.
I would also recommend that you put the series title on one line — "Charlie Kadabra, Last of the Magicians."  Otherwise it seems like you've got a book title, followed by a series title with its own subtitle. Titleception!
Anyone else?