The author says:
Invivo is a love story of honor, remorse and revenge, and one man who sacrifices everything to fulfill a promise. The story opens in a small university town in Scotland. Dr. Harold Spencer is arguing with his wife Shelly. She wants a child. He does not. Harold's father and then his brother died of Cystic Fibrosis. He did not want an abbreviated, unhappy life for his child. He would not have children unless they could be healthy. His research was progressing. He promised they would not wait too long. Harold was deep into a bold experiment, injecting foreign DNA into a host animal, doubling the viable DNA. His approach promised miracles. So far, however, he had managed only to kill hundreds of rats, until one survived. A brutal murder ends all possibilities and results in one lost life, one given away, and one life allowed to blossom and quickly die. Harold found the one way he could keep his promise. Aimed at adult fiction readers.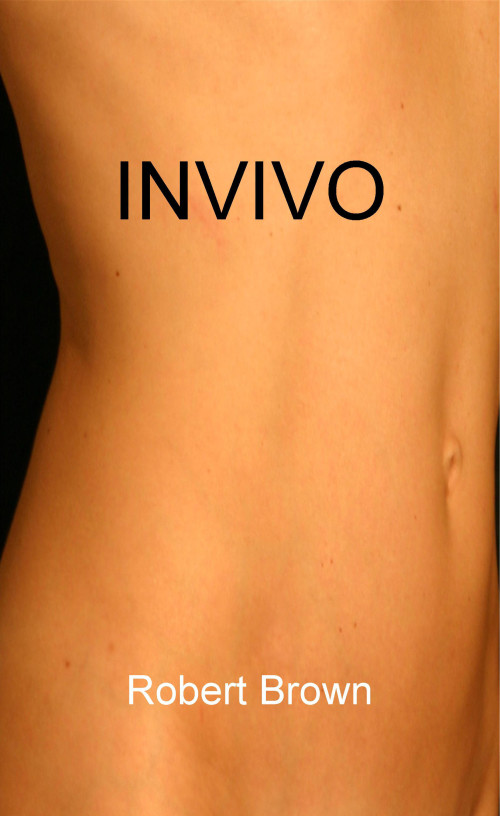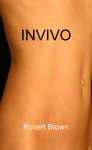 Nathan says:
Minimalism is a tough gig. More than any other style of design, I have only by gut reactions to go by when saying whether something works or it doesn't. I don't think this works, and what follows is my attempt to reverse-engineer my gut reaction in intellectual terms.
1) I think most minimal designs work best when the lack of extraneous information lets a strong focus be put on one, and only one, detail.  In this case, I think that seeing the curve of the back distracts from the navel, which would otherwise be the obvious focus.
2) With very little to take away the focus from the type, it becomes imperative that the type be presented confidently.  That doesn't mean that it needs to be gaudy or even ornamented with serifs, but I think the font you chose here gives more of a "chosen at random" feel than "chosen for strength."  I hope that makes sense.
3) I'm nor sure from the description what the real focus of the story is, but I'm pretty sure that the cover doesn't convey it.  Looking at the cover without the description, I may think that it has to to with the pursuit of physical beauty, and the title gives at least an indication that procreation is involved, but I don't get anything remotely science-y or science-fiction-y, or murder-y.  Again, I don't really know how central those themes are to the book, but they seem central to the description and yet absent from the cover.
Given that there's a lot of image to work with here, I was to do one of my Five-Minute Makeovers to see what I could come up with.  But when I tried cropping the curve of the back and the text out of the photo, the navel over to the side wasn't enough of a visual clue of what we're seeing. I think you might want to find a different photo (it could even be something from the same modeling session) with the navel more toward the middle so that you can include the muscle and bone structure around it and have it be more recognizable.  An added bonus there is that you can play with the color more to indicate either the suspense-thriller or medical-science mood of the story, while not impinging on recognition of the navel.
I have now talked about navels more in the past twenty minutes than I have done in the last five years.
Anyone else?